Dynamic Tactical
Shooting & 3-Gun
The affordably priced, highly versatile, crystal clear
Low Powered Variable Optic you have been waiting
for is here. Meet the Tomahawk.
RAPID TARGET
ACQUISITION
Both the BDC and MOA illuminated etched reticles are designed to instantly acquire your target at short and medium range from a preset 50/200 battle sight zero.
CLOSE QUARTER
BATTLE
With true 1x optical performance, this riflescope and its reticles are designed to act like a red dot sight at short range. Keep both eyes wide open and maintain your focus on the target.
LONG RANGE
PRECISION
Crank up the magnification and have confidence in those long range shots with the Tomahawk's ultra bright sight picture. Both illuminated, glass etched reticles incorporate ranging and long range holdover aiming cues.
Second Focal
Plane (SFP)
The larger reticle vs. the target size at lower magnifications afforded by the SFP is ideal for 3-Gun competition or tactical shooting, allowing you to find and hit those short range targets faster.
Included Throw Lever
Because your holdovers are only accurate at the highest magnification, the included throw lever allows you to crank up or slam down the magnification in a split second.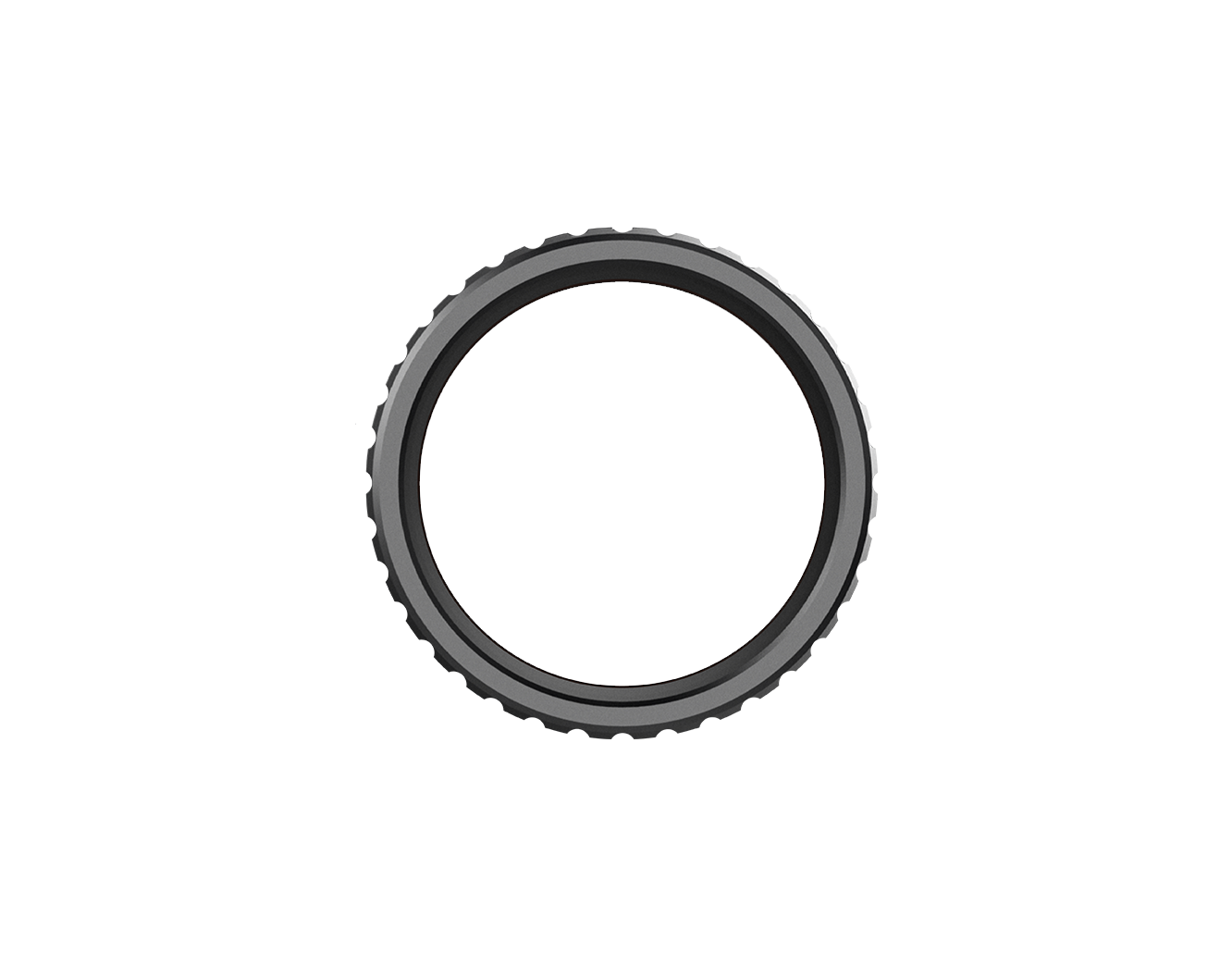 1-8x24 with Guerrilla Dot BDC
Superior Optical
Performance
The Tomahawk series smashes the myth that you
need to spend half your paycheck to get clear,
good quality glass.
Bright and Clear
Sight Picture
The Tomahawk boasts edge to edge optical clarity throughout the entire magnification range.
True 1x
performance
Impressive true 1x magnification. An instant 1x sight picture gets you on target faster, without having to adjust your eyes' focus.
Quality Glass,
Premium Coatings
Containing rare earth metals, the glass is optimized for maximum resolution and brightness. The lenses are fully multi-coated for maximum light absorption and anti-reflection, with extra specialty coatings for anti-fog, anti-scratch, and hydrophobic performance.
An Eye Box
With Latitude
Rifle scopes at this price range often have a limited margin of error for eye placement, creating ellipses and blocking the full sight picture unless your eye is positioned perfectly. The Tomahawk widens this margin of error, providing more speed and flexibility in acquiring your sight pictureat full magnification.
Fast Focus
Everybody's eyes are different. The fast focus adjustable ocular allows for micro adjustments to keep the reticle sharp at all times, whether illumination is on or off.
Eye Relief &
Field of View
The optic system is a finely tuned machine, allowing for generous eye relief while maximizing field of view. You won't get fatigued looking through this scope.
Zero Reset Turrets
Zero reset turrets provide more flexibility and just work better than most zero-lock turret systems. Zero the scope to your preferences and adjust your dial markings to mark your 'zero'. Always know where your zero is without counting clicks. This system works great for shooters who prefer to dial for windage and elevation. For shooters using the reticle holdovers, set your zero and leave the turrets alone- and if the turret somehow gets bumped, simply dial it back to zero with a quick twist.
Glass Etched
Illuminated Reticles
The 11 position illumination turret provides crisp
reticle contrast for both low light and bright
daytime conditions.
Guerrilla Dot BDC
Calibrated for the AR platform with a 16" barrel and using 5.56 NATO 55gr FMJ, this reticle does it all. It has a 1.5 MOA quick strike red dot, an 18" outer circle for quicker strikes at short range, holdovers out to 600 yards, and ranging capabilities for plinker plates and humanoid target shoulders out to 500 yards.
Guerrilla Cross MOA
This reticle combines quick strike capabilities as well as standard MOA hash marks for windage and elevation adjustments. It features a center cross with a 0.5 MOA center aiming point at the cross intersection, and an 18" outer illuminated circle. Use the red illumination markings for quick strike capabilities, and the black markings for standard MOA ranging and holdover calculations.
Spear Duplex
The Spear Duplex reticle is a simple, clean crosshair surrounding a center dot that can be illuminated in red. Fast and uncluttered, Spear Duplex offers no ranging, bullet drop compensation, or other advanced features. Zero in so that the center dot matches the point of impact at your preferred distance, and enjoy the simple, instinctive shooting experience.
Takes a Beating,
Holds Zero
Ever have that feeling that you need to treat your gun with kid's gloves because you are worried about damaging the glass? You can shed that mindset with Swampfox. The Tomahawk is shock resistant to 1,100 Gs of shock, waterproof, sand proof, and pretty much gorilla proof.
SPECIFICATION
| | |
| --- | --- |
| Magnification | 1-6x |
| Tube Diameter | 30mm |
| Objective Lens Diameter | 24mm |
| Exit Pupil (mm) | 3.4 @6Xmm (1X-6X) |
| Eye Relief (in) | 3.7-3.8" (1X-6X) |
| FOV @ 100 Yards (ft) | 108.2-17.7' (1X-64X) |
| Click Value | 1/2 MOA |
| Parallax Setting | 50 yds |
| Preset ZERO | 50 yds |
| Travel Per Rotation | 60 Clicks/ 30 MOA |
| Max Elevation Adjustment | 100 MOA |
| Max Windage Adjustment | 100 MOA |
| Lens Coating | Fully Multi-Coated/ Anti-fog/Hydrophobic |
| Illumination | 11 Position Illumination turret |
| Battery | Side-mounted CR2032 Battery |
| Reticle | BDC & MOA Glass Etched Illuminated |
| Magnification Required for Reticle Accuracy | 6x |
| Fast Focus Diopter | Yes |
| Turret Style | Tactical Turrets with Zero Reset |
| Length | 10.5" |
| Weight | 18.6 oz |
| Waterproof Rating | IPX7 |
| Impact Resistance | 1,100 G Forces |
RETICLE
Guerrilla Dot BDC
Guerrilla Cross MOA
Spear Duplex
The Guerilla Dot BDC is highly versatile, capable of delivering rapid target acquisition at true 1x power, while also delivering various holdovers for mid to long range shots.
Lake City/Federal 5.56 NATO
55gr FMJ/XM193
Ballistic Coefficient: .243
Muzzle Velocity: 3101
Barrel Length: 16"1
Also includes holdovers for 7.62 NATO/.308 Win. Based on the following:
Hornady .308 WIN 155gr
Ballistic Coefficient: .435
Muzzle Velocity: 2,865 fps
For rapid plinker plate strikes
Inner Cross Bar alignment represents 12" diameter @ 100yds
Shoulder Ranging Bars
DISTANCE
(YD)
TARGET WIDTH
(IN)
HOLDOVER WIDTH
(MOA)
100
19"
20
300
19"
6.35
400
19"
4.77
500
19"
3.82
IN THE BOX
Scope
Throw Lever
Wrench for throw lever
Flip Up Lens Caps
Scope Cloth
Battery
Product Manual
Reticle Manual
Write a Review
We Like Shooting Podcast!

So excited to have Chris representing Swampfox Optics on my favorite podcast, We Like Shooting! I purchased a Kingslayer months ago and love it. Then the Tomahawk came out, and just like that I had another Swampfox product! Now they've released the Patriot...what I'm I to do? Probably add yet another one of their products to something I own! I've had nothing but great experiences with these guys, shipped fast, quality above the cost, a great online chat with Mike, Chris was a great guest on the WLS podcast, what more can I say? Unfortunately, no review section on the page, so I'm just going to put this here, OK? Look forward to the as yet unnamed products coming down the line, glad to have companies like this in my home state of Colorado!

I was in the market for another low power AR optic when I ran across Swampfox on Optics Planet. I was looking at Burris, Vortex, Primary Arms and others. I was leaning toward the Strike Eagle 1-6 again as I like the one I have already. Unfortunately there were no details or reviews at the time on the planet website, so I almost went right past this scope. Partly because of them being a new manufacturer in the big world of optics and the pricing was similar to well known manufacturers. I was a little apprehensive to spend the money for something that didn't have many reviews and feedback. But I was interested in the MOA reticle and liked the Swampfox name. So, I did a lot of online searching to try to learn about Swampfox and found some interesting information on forums and started feeling better about the company and their products. I liked that they are a Colorado company and just up the road. I liked their approach to listening to what American customers want and building scopes that way. I also found a discount through expert voice right on the Swampfox website. That made a great deal on the 1-6x24 Tomahawk and beat anything I was finding for a Strike Eagle, so I went for it....and I'm so glad I did.
I've owned the scope for about a month now and put about 500 rounds downrange with it. Most definitely this scope competes with the Strike Eagle...and I'd say outperforms it. The MOA reticle is exactly what I wished the Strike Eagle had from the get go. Actually a nice cross between the Strike Eagle and my Burris Ballistic AR reticle. Very accurate, easy to see and use. The illumination is slightly more daylight visible that the Strike Eagle. I live in high desert, so outside of a red dot nothing really stands out. Still, I could see the red reticle more clearly with the Tomahawk. The turrets on both are very comparable. Positive clicks and track very nicely. The magnification is easy enough to adjust without the throw lever, similar to the Strike Eagle again. Awesome that the throw lever is included, nice bonus! I would add that I feel the Tomahawk is more of a true 1X optic. My opinion..could be the way I set it up or adjusted the focus. Very clean and clear image with no curve or distortion around the edges. The Strike Eagle was very comparable, but I noticed just a slight distortion at the edge, especially when switching from the Tomahawk. The Tomahawk also produces a crisp, clear image at 6X. The Tomahawk has excellent eye relief. I was surprised by this when I first mounted it.
Overall, I'm very happy with this scope and I'm an instant fan of Swampfox. Heck, I might be selling a Strike Eagle and buying another Tomahawk. And I cant wait to see what the Patriot long range scopes bring to the market!

This is definitely a quality optic, and is possibly the best LVPO in its price range. In comparison to the Vortex Strike Eagle, which is probably its strongest competitor, it truly stands out. The glass quality is roughly equal between the two, but the Tomahawk feels more rugged and the Guerrilla BDC reticle is superior to the Strike Eagle's. However, if glass quality and ruggedness are your concern, spend the extra $300-$400 for a Sig Sauer Tango or a Vortex Viper PST.
The fact that it comes with the throw lever is a plus, too, and I am excited to try the Kingslayer on my Sig 320 X Carry.

Great quality for the price

The grass is very clear, the turrets have positive clicks and the finish is very nice. I was torn between this and another optic from Vortex due to the price and Law Enforcement discounts provide to us.. and this being a newer company so I took the leap and purchased this instead. I'm very pleased with this purchase and would easily compare this to more expensive LVPO's I recommend It if you are looking for a great optic at a great price!

It sure was very hard for me to purchase a Scope from a new Company. But I already had been curious started researching the Company and signed up for there Email. At Christmas time I received there offer to buy one Get one so that gave me the opportunity to have one to test. After 40+ years of owning every brand Optic there is and what to normally look for after reading all the details I knew if it could pass a torture test this Optic had all the Functions to be used on my Battle Rife And be used in 3 Gun Championship Shooting. It was only 2 clicks low at 50 yards out of the box on a 14.5 556 Barrel. The Reticle is very Daylight bright and the Horseshoe Is a true 12 inch as stated in the instructions. I shot 200 Rounds of 223/556 55g /62g. It Tracked absolutely perfect and the Glass is unreal Clear like you see in Optics twice the price. I was taking it off of my AR15 to see if it would hold up to the Recoil of my 308 rifle while it was off I decided to really give it a test I threw it as hard as I could it bounced up did a 360 or 2 and hit direct on the rear lense the front and rear Reticle was full of mud I cleaned it out with a water hose and tooth brush brush put it back on my AR15 to see what all broke and it was still dead zero at 50 all way out to 200 yards that's all the distance I had that day. People this product is the Real Deal I don't have a clue how they do it for the cost but I don't care either. I want every Optic they sale before the word gets out to everyone. I'm going to Purchase the 1-8-24 next and replace a $840.00 Optic on my Custom 6.5 Grendel Hunting Rifle. This Company is on a Mission.